Joe L. Dudley, Jr.
President of Dudley Direct, Inc.

--------------------------------------------------------------------------------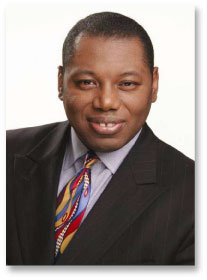 Joe Dudley Jr. is an advocate for entrepreneurship. He has observed and worked directly with hundreds of successful entrepreneurs over the past 30 years. Joe is the President of Dudley Direct, Inc. – a direct marketing and small business consulting firm. He is also a second generation entrepreneur who has had the chance to see and work in all departments of his family's business – Dudley Products, Inc., one of the nation's leading manufacturers and distributors of ethnic hair care and personal care products. By serving in a variety of key roles in retail sales, direct sales, maintenance, accounting, production, marketing and finance, Joe gained a great appreciation for the diversity and potential that entrepreneurship offers. Joe received a BA in Economics from Northwestern University in 1985 and a MBA from NU's Kellogg Graduate School of Management in 1986, completing three majors in marketing, finance, and strategic planning. He is also a certified Myers-Briggs Type Indicator instructor and is certified to administer Predictive Index, a workplace assessment tool.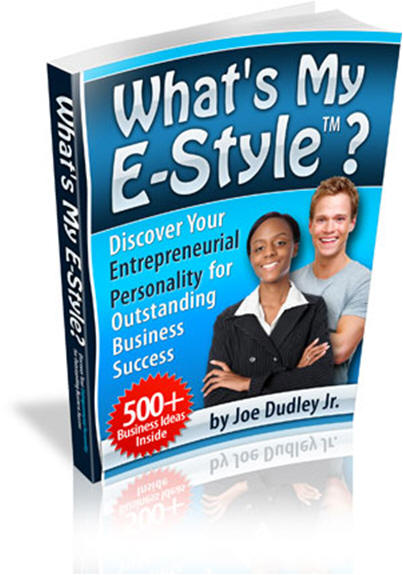 What's My E-Style? is a comprehensive profile of entrepreneurial personalities and up to 500 different business ideas.
Now more than ever, people want to start their own business and they can't afford to fail. Help your audience discover the secrets to choosing a business that fits their strengths, talents and personality with:
What's My E-Style?
Author & E-Style Creator
JOE DUDLEY JR
S P E A K I N G T O P I C S
•What's Your E-Style? Audience Quiz
• Entrepreneurship In the Age of Obama
• 9 Entrepreneurial Personality Types
• No Finance without Romance

(Picking the wrong business is like picking the wrong mate.)
• How to Deal with Customers, Clients & Employees the Right Way
• The 7 Systems of Highly Effective & Profitable Businesses

Joe can also customize a topic based on your organization's need.

T E S T I M O N I A L S

From all accounts the students really enjoyed your "What's Your E-Style" Presentation. It was both informative and interactive.

Tiffany R. Bussey
Director
Morehouse College Entrepreneurship Center

Increase your audience's odds of entrepreneurial success by 500% over the average entrepreneur!

Book Joe L. Dudley, Jr. today! CLICK HERE