Nationally Acclaimed Author
We are proud to announce our latest addition to a great line of speakers. Michael V. Roberts
To view photo gallery below click on the control button.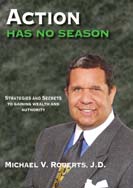 Michael Roberts is the author of Action Has No Season, Strategies and Secrets to Gaining Wealth and Authority. Book reviews have characterized his work as, "a must read for leaders and entrepreneurs"; "his book proves that Mike Roberts is a capitalist for his time…part existentialist, part-capitalist, he is building a legacy for his family and all aspiring African-Americans who want to participate in the American Dream."
Book now available at WC Publishing Book Store.

M

r. Roberts is a nationally renowned speaker and has served as guest speaker for the following:
• Harvard Business School Conference on Cooperative Economics
• Morehouse College Executive Lecture Series
• Northern Ohio Minority Business Council
• Kansas African-American Museum
• Pittsburgh Minority Purchasing Council
• Jackson State University
• St. Louis University
• University of Missouri College of Business
• 2005 National Urban League Leadership Development Conference
• Benedict College
• Dallas Black Contractors Association
• University of Missouri, St. Louis VISION Speaker Series
MICHAEL V. ROBERTS, JD
Chairman & CEO
The Roberts Companies

Roberts-Roberts & Associates

Roberts Broadcasting Company

Roberts Brothers Properties

Roberts Lofts on the Plaza

Roberts Place

Roberts Centre of Denver

Roberts Tower Company

Roberts Wireless Communications

Roberts Plaza, LLC

The Shops at Roberts Village

Roberts Tower

Roberts Mayfair Hotel

Roberts Crowne Plaza Hotel

Roberts Comfort Inn-Busch Gardens

Roberts Radisson Hotel

Roberts Inn At The Park

Roberts Holiday Inn

Roberts Orpheum Theater

Roberts Aviation

Roberts Cabinetry

Roberts Isle and Resort
Author Speaks
Click on the links below to listen to samples of Michael V. Roberts' Audio Speeches (Available on CD and MP3)
Action Has No Season, Strategies and Secrets to Gaining Wealth and Authority
Download Complete CD in MP3 format for only $8.00 or purchase CD for $12.00 plus S&H
3320 Robinhood Rd.,#101
Winston-Salem, N.C. 27106
Phone: 336.794.4023 ● Fax: 336.794.4025
email us: marketing@wcpcommunications.com
Book Michael Roberts today! CLICK HERE
********