Pastor Shirley Caesar
After hearing the voice of God during a college exam, Shirley Caesar believed it was her duty to spread the Gospel. This "calling" has developed into more than 150 concerts per year, volunteer work for the poor, speaking engagements, numerous Grammy awards, and over 30 record albums.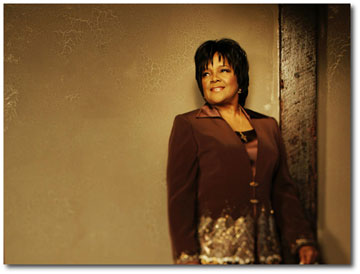 Better known as the 1st Lady of Gospel Music, Pastor Shirley Caesar performed with the Caravans in the '60s before pursuing a professional solo career in 1966. Born in North Carolina, Caesar is powerful minister of music, pastor and inspirational speaker. At the age of 10 she began singing and performing for family and friends. She graduated from Shaw University with a Bachelor of Science degree in Business Administration in 1984. She also received honorary doctorates from Shaw University and Southeastern University.

Shirley Caesar performs with an energetic and soulful style. She believes that with all the suffering and hardships in the world people will listen to her music and inspirational speaking style and be encouraged. Her live album, He Will Come, is a testimony to her philosophy of life. The album was recorded with the choir, band and congregation of her church. In the title song "He Will Come," Shirley Caesar transcends the message of hope, that although society is getting worse, the Lord will save us and is coming. Her other gospel hits with inspiring messages include "God Is Good," "Revive Us Again" and "Time to Be Blessed." Shirley Caesar's hope is that her messages will be listened to and people will be encouraged to lead good lives. Her 1987 hit, "Hold My Mule," was written to encourage people to "fight the good fight." All her songs combine music with ministry to convey her messages.
Backed by a sixty-person choir, rocking like a tempest, she is a bundle of fireworks on the Fourth of July. The gospel style of song and sermonette, singing that involves both the spoken word and dramatic acting, was developed primarily by Shirley Caesar. She journeys all over the world, sometimes traveling all night to return to her pulpit in Durham, North Carolina, the town where she was born.

Shirley Caesar has received numerous awards for her gospel albums. She has received Grammy Awards for Stand Still, Shirley Caesar Live...He Will Come, Sailin', Rejoice, Celebration and He's Working It Out For You. Between 1981 and 1995 she has received seven Dove Awards for Black Gospel Album of the Year for Live at the G.M.W.A., Live...In Chicago, Celebration, Christmasing, Sailin', Go and Rejoice. Two Black Gospel Song of the Year Awards for "He's Working It Out for You" and "Hold My Mule."

If you were beginning to worry that no significant traditional gospel albums made a mark in 2007, Shirley Caesar's After 40 Years … Still Sweeping Through the City is sure to lay those fears to rest. The title is fairly self-explanatory. This is the gospel matriarch's 40th anniversary as a solo recording artist; a career she began in 1966 after a leap of faith. A call to ministry led Caesar to leave The Caravans, arguably the most popular all-female gospel group of the 1950s, and from there she soared to new heights.

Celebrity-minded gospel luminaries would use this occasion to roll out the red carpet and make this more about the guests and the creators than about the Creator, but not Caesar. This album was recorded live at Mount Calvary Word of Faith Church—the congregation she co-pastors with her husband—as the culmination of a week of seminars and training for church leaders.

Besides being the minister of her church in North Carolina, speaking across the United States and Abroad, and performing concerts nationwide, Shirley Caesar has performed on Broadway. Her Broadway performances include roles in Born to Sing: Mama 3, Mama I Want to Sing and Sing: Mama 2. She made a guest appearance at the 25th anniversary of Walt Disney World with fellow artists Peabo Bryson, CeCe Winans, Regis Philbin and Kathie Lee Gifford. Her activities include performing for President Clinton and Hillary Rodham Clinton at a campaign function. Despite her busy schedule, Shirley Caesar constantly finds time to get her messages of encouragement, hope and peace to the world.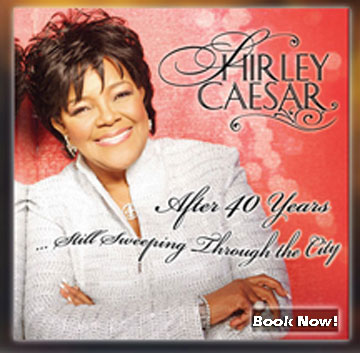 San Francisco Examiner critic James Kelton said, "The energy transmitted between her and her audience makes most rock'n'roll fanaticism seem like empty piety." A quote that still stands true today for the energetic 11-time Grammy Award-winning artist Shirley Caesar.
Shirley Caesar released her 41st CD "I Know The Truth" - the first to be released on her new record label Shu-Bel Records-distributed through Artemis Gospel (formerly known as Light Records), to include 12 tracks with a variety of styles including a twist of hip hop, church, and quartet where she undoubtedly brings her signature energetic powerhouse vocals with an abundance of love and encouragement.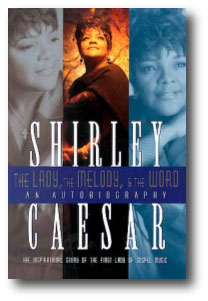 The Lady, the Melody, & the Word:
The Inspirational Story of the First Lady of Gospel
By the time she was ten years old, Shirley Caesar had already made a name for herself. The tiny singer in pigtails and bobby socks was known throughout the Carolinas and Virginia as "Baby Shirley," and her foot-stomping, bring-down-the-house style was in demand for church services and revivals.

To date, Shirley Caesar has had an astonishing career spanning four decades. The Lady, the Melody, and the Word is Shirley's own story of those years, told in her intimate and passionate style.
Pastor Shirley Caesar moves her audiences with her powerful motivational and inspirational speaking style. Make your next event memorable by contacting us today to have Shirley Caesar grace your event. Any event can benefit from an inspiring keynote address, so contact a WCP Communications Speakers Bureau consultant to be matched with the perfect inspirational speaker.