Bishop Tommy Campbell, Jr.

Bishop Tommy Campbell Jr. was born and raised in Lumberton, North Carolina and is the middle child of two. He is a young man who has been through so many trials and tribulations, but the hand of the Lord was upon his life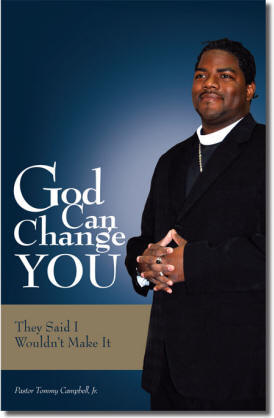 . He is the son of Melody and Tommy Campbell, Sr. Elder Tommy Campbell, Jr. was called to preach at a very young age. He started walking into his calling when he went off to college. Elder Campbell was led to attend church in Greensboro, NC in 1998 under the leadership of Bishop George W. Brooks. The more he sought God, the more God showed him what his purpose and calling was. Elder Tommy Campbell accepted his call to preach in 2000 and started preaching in 2003. He was ordained as an Elder on April 15, 2007. He earned his Bachelor's Degree in Pastoral Ministries/Biblical Theology with a minor in Christian Counseling from John Wesley College. He is currently working on his Masters of Divinity Degree at Shaw University. He is under the leadership of Bishop Vander D. Purcell, Presiding Bishop of Sanctuary Deliverance Church of the Living Word. Elder Tommy Campbell is also a traveling evangelist. Elder Campbell is a very powerful, young and anointed preacher who is impacting this nation with the Gospel of Jesus Christ. His motto is "God can change anyone if they want to be changed".

Author Information
Book Title: God Can Change You
Pastor Tommy Campbell, Jr. is the Founder and Senior Pastor of Life Changing Ministries International in High Point, NC. He serves under the leadership of Bishop Vander D. Purcell. Pastor Tommy Campbell Jr. is a graduate of John Wesley Bible College. He is also an Evangelist who travels the country preaching God's Word. He is one of the youngest, anointed preachers in the country. He is a preaching machine. He preaches in convocations, national conventions, and conferences. He loves to travel preaching the Gospel of Jesus Christ. If you need a powerful preacher for your next church or group engagement click here.